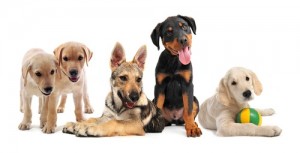 Our fun and informal puppy classes will enable you to bond with your puppy whilst teaching basic cues and providing plenty of opportunity for socialisation with other pups. Classes are delivered by Annie, a qualified Dog Behaviourist.
Puppies need to begin classes between the ages of 12 – 20 weeks so that they are all at the same stage of development.  As classes get booked up quickly we recommend you complete the form below ASAP so we can reserve you a space.
Venue – Scout and Guide HQ, St Martins Road, BS4 2NH  (just off Wells Road)
Price – £60 per six weeks.
Cannie Canines Puppy class schedule:
Fridays at 7pm & 8pm.
Next potential course start date:  2nd March 2018 at 7pm
You will:
Learn how to connect with your puppy and teach basic cues
Be more motivated to train your puppy
Receive help, advice and support
Your puppy will learn:
Bite inhibition
Social skills
To respond to you when distracted
Come when called
Walk on a loose lead
Off/drop items
Positions (sit, stand and lie down)
Stay in place
Leave it
Accept being handled and groomed
Greeting visitors
Classes are just under an hour long, usually with six puppies and certainly no more than eight.
We use kind and effective techniques, rewarding puppies with treats, praise and games and play with other pups.  We will gradually progress exercises from easy to more complex, building your puppy's understanding and reliability each week.
Click here to read what people say about our training courses.
Fill in the form below and we will send you details of how to join our next course.